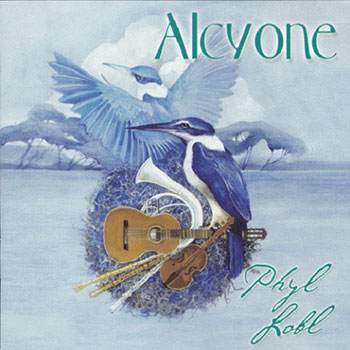 On the CD booklet I had this to say:
PERFORMER'S NOTE:
This CD exists because of a chance meeting with Michael Roberts. He and his wife came from the areas of Tasmania where the writing project I was involved in took place. This sparked his interest. Michael is 'one of a kind'. Someone who understands what a song needs to make it spin in the mind, who knows how the creative process unfolds and then rewraps the material. He gives generously of his care, time and skills to allow this to happen. I will be forever grateful, not just for the high level of the recording, accompaniments, arrangements, and suggestions for improving the songs but because he had faith in a performer whose faith in herself and the future was badly bruised. On top of all that, he knew just what to suggest in the simplest possible way to get the best performance and interpretations I could give at this time. Such good fortune seems more than just good luck.
Michael had this to say :
PERFORMER'S NOTE:
A friend of a friend of a friend, as it often does, that's how it started. I produced a CD compilation of Phyl's vinyl vintage work and at the end of that project she casually mentioned she'd like to make a new album of songs she had written but never recorded. This is a big undertaking for anyone and at a time when many of her contemporaries are feet up and wallowing in the fuzzy twilight glow of nostalgia, a bold course to plot. What followed was statement of self. Here is a woman asserting her independence and her intellect revealing the wounds the hurts, the hopes the joys and the history, in short her humaness. Phyl writes across boundaries, from politics to politics of the personal. It was great to see her embrace the challenge, to overcome the doubts. I admire her courage to reveal just where life (and death) have led her. Of the songs, I have tried to keep the arrangements simple and empathetic because these songs have something to say, an unusual thing in this day and age.
Warm thanks to George W. for his fiddle mastery matched I think by Chris's whistle and flute and Kate's sensitive tones. Coincidentally, as a displaced Tasmanian I have to grin at the irony that after 20 years in Sydney I produced an album full of references to places I grew up in. As it turns out
'Derby Hall'
has a line about the boys who never got back from WW1. A list of golden names, my great grandfather is on it. I feel connected to this work in all sorts of ways. I know I won't be the only one. Love and thanks to Dianne and Amy, and to Phyl of course. Michael Roberts 2002 Friends to thank for encouragement, advice or for just being there include: Barbara Stacey, Jill Stubington, Kate Delaney, Gwenda Davey, Bob Bolton, The Dengates, Donaldsons, McEvoys, Lustigs, McKenrys, Seals, the folk community. I thank my memory of Geri for giving me a reason.