As it relates to the products on this site, and places I have lived in my life.
Along with Glen Tomasetti, Wendy Lowenstein and Shirley Andrews and Norm O'Connor and others including Geri Lobl, Phyl served on the committee that instigated the National Folk Festival Movement.
Marriage to Geri Lobl saw a name change and city change when they moved to Sydney. She continued to write, perform and teach.
Warren Fahey of Larrikin records used her talents on several LP's before co-producing with Geri Lobl an LP called
'On My Selection'
. This was an LP of Australian contemporary (then) songs. Phyl wanted to show that although cultural influences from other countries coloured the songs, they belonged geographically and historically to Australia and to show we were, and are, capable of producing worth while material in and of this country.
The
'Broadmeadow Thistle'
LP followed, consisting almost entirely of Phyl's compositions. She was the first artist to take part in the Folk Touring Circuit initiated by the Folk Trust, after which she toured New Zealand. During this time Geri, with Phyl's help, ran a restaurant called 'Mother's Cellar' in Elizabeth Bay, Sydney.
Another project for Phyl at this time was a Music Teaching Kit called 'Not Just Noise (Original)' which was published by CCH through Kerry Hudson. It won commendation in the Publishers Awards as a school textbook and was described as "a Rolls Royce product for a Ford Escort market". After the sale of the restaurant and a semi-singing world trip Phyl returned to teaching as a Music Teacher and Librarian in a small Primary School, Undercliffe. The fruits of which were improvements to the Music Kit and other teaching programs.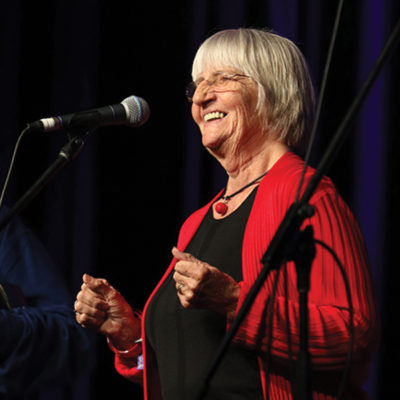 An appointment to the Music Board of the Australia Council in order to fight for funding rights for Australian Folk Music brought a break in performing. Teaching kids music and teaching board members that Australian Folk music did exist was quite demanding. The funding rights improved by several hundred percent. Her appointment also helped gain recognition and funding that led to the fixed National Folk Festival in Canberra. Other artists also benefited from projects they wanted to complete. Phyl was awarded a Graham Squance award for services to folk music in 1986.

When the Tasmanian Arts Board asked Phyl to undertake a project called 'Then & Now' with Tasmanian poet Sarah Day, Phyl wrote songs that reflected lives of Tasmanian women from the past and from the then present, the 1980's. Many will find their way to this site in time.
Also around this time Phyl coordinated the production of a Folk Music Kit for the year 11 and 12 at the request of the Australian Music Centre. Geri's death in 1997 was a profound loss. Phyl produced a retrospective CD
Bronzewing
in order to pay tribute to him. Using the cover of a previously published songbook it included songs from
'Dark-Eyed Daughter'
,
'On My selection'
and
'Broadmeadow Thistle'
. With help from Michael Roberts of Musyks Productions she then recorded
'Alcyone'
(2002). Some tracks are songs from the Tasmanian 'Then & Now' project. Having extra cover designs and musical content aplenty, Phyl decided the best way to disseminate her early and contemporary material is – via this Web Site!!